HuCD34-NCG Mouse Model
The HuCD34-NCG mouse from Charles River is a study-ready mouse model with a human-like immune system, created by adoptive transfer of CD34+ stem cells. HuCD34-NCG mice are an ideal in vivo platform to evaluate the effectiveness of compounds modulating the human immune system. The lack, or late onset, of graft-versus-host disease (GvHD) in humanized mice make them ideal for long-term studies.
NCG mice are humanized by adoptive transfer using human umbilical cord blood-derived CD34+ stem cells, following myeloablation treatment. Animals are subsequently housed for 12-15 weeks according to Charles River immunodeficient animal housing protocols.
Interested in Trying Out the HuCD34-NCG Mouse?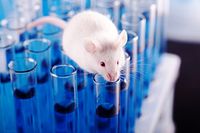 The new CD34+ humanized mouse model is available for evaluation through our Charles River Hu-Mouse™ Exploratory Program.
During this period, CD34+ stem cells develop into human immune cells that engraft within the immunodeficient NCG mice. The presence of human immune cells are verified in the peripheral blood as early as 12-15 weeks post-engraftment, as verified by multi-color flow cytometry. These immune cells are detectable in mouse tissues, including bone marrow, spleen, liver, and lung, and have been shown to infiltrate implanted tumors.
The HuCD34-NCG mouse model is available in North America only.

Benefits of the HuCD34-NCG Mouse Model
Convenient – HuCD34-NCG mice are study-ready, expressing human immune cells
Consistent – Every mouse is pre-tested for humanization
Stable – Engraftment of hematopoietic cells provides a research platform for extended studies 
License-free – No additional licensing fees or royalty payments

Research Applications
Oncology
Immunology
Hematopoiesis
Stem cell research
Infectious disease
Regenerative medicine
Transplantation research
Hematological disease

For more information on this model, download the HuCD34-NCG Mouse product sheet.
 
Pricing and Ordering Information
Pricing

Prices include the HuCD34-NCG model, as well as the cost of the multicolor flow cytometry testing per mouse.

How to Order

Place your order for the HuCD34-NCG mouse today by contacting Charles River at 1.800.LABRATS (1.800.522.7287) or via email at [email protected].

Available in North America only.
Frequently Asked Questions (FAQs)