IGS Program for Mice and Rats
Our IGS program ensures that animals bred at any global production facility have the same genetic profile if they are an inbred strain or the same relative level of genetic heterogeneity for an outbred stock.

Outbred Mice and Rats
For outbred stocks, genetic drift and colony divergence across multiple generations for strains bred in isolation can be expected among rodent colonies. While genetic drift is natural and unavoidable, it's important to maintain diversity at the individual level and standardize the rate of genetic variation across multiple colonies that are geographically separated. For outbred stocks, the IGS program ensures minimal inbreeding, heterozygosity, and management of genetic drift across colonies worldwide.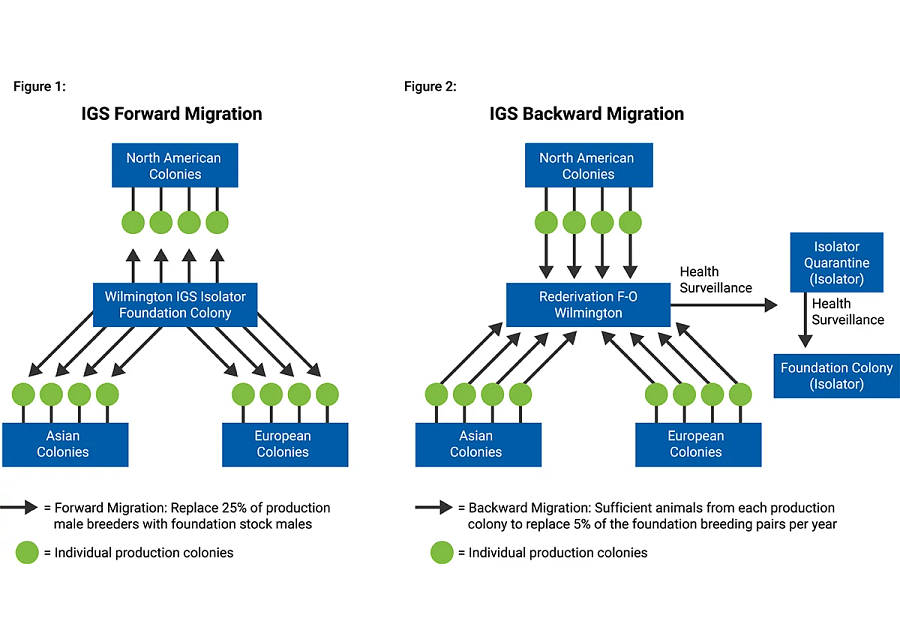 Fig. 1: A key element in the genetic management of outbred stock is migration. Every 3–5 years (10 generations), animals from the foundation colony are migrated on a rotational basis to production colonies to replace some breeders. 

Fig. 2: Every year, animals are migrated back into the foundation colony from production colonies to replace 5% of the foundation breeding pairs. This system of forward and backward migration acts as a "genetic glue" that links all colonies and ensures that none diverge far from the others. The result is all colonies are genetically merged into one large colony which resides in multiple locations around the world.
 
Find the Right Model for Your Studies
Take advantage of our Animal Model Evaluation Program and see which inbred or outbred model is the best fit for your research.

Inbred Mice
Inbred strains are defined as animals produced by a minimum of 20 generations of brother-sister mating, traceable to a founding pair. We use a pyramid mating system coupled to a foundation colony for inbred mice strains across the world. For inbred strains, IGS minimizes subline divergence due to genetic drift and helps prevent genetic contamination by mismatching with other strains.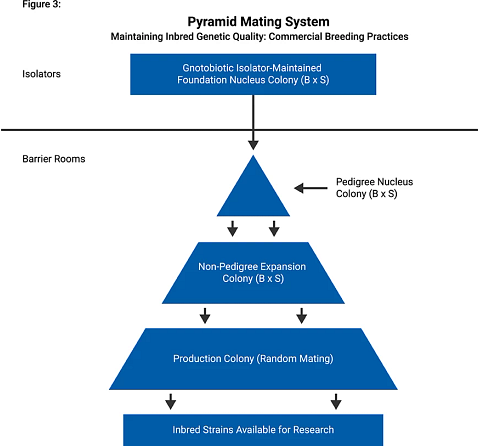 Fig. 3: We use a pyramid mating system coupled with a foundation colony for all inbred strains. In this system, the foundation colony serves as the genetic and health standard and provides breeders for the top level of the pyramid in every barrier room. The unidirectional flow of breed stock in this system helps to ensure that any genetic changes or mutations, which would be more likely to occur in the larger expansion or production colonies than in the smaller nucleus colony, will "wash out" within a single generation.

Frequently Asked Questions About the International Genetic Standardization (IGS) Program