Environmental Risk Assessment Services
Charles River provides a comprehensive portfolio of ecotoxicology and environmental fate (eFate) services in accordance with the existing guidance documents. We can arrange initial evaluation of potential environmental exposure and risk following review of usage patterns and available environmental effects data as well as phased refinement of the ERA. We can also liaise with authorities and consultants regarding the detailed design and scientific justification of any nonstandard tests that may be required.
Program Design Considerations for Environmental Risk Assessment
Learn more about the different requirements regulatory authorities put on pharmaceutical companies to assess the potential impact of their drug substance on the environment.
EU Tiered Approach
Since 2006, an environmental risk assessment (ERA) is required for all new marketing authorization applications (MAA) for medicinal products, including those for generics. The procedure described by the European Medicines Agency (EMA) follows a tiered approach.

FDA Tiered Approach
In the US, environmental assessments (EAs) must be submitted as part of certain new drug applications (NDAs), abbreviated applications (ANDAs), investigational new drug applications (INDs) and for various other actions, unless the action qualifies for a categorical exclusion (CE) based on an expected environmental concentration of the active moiety below 1 ppb and a claim for no extraordinary circumstances.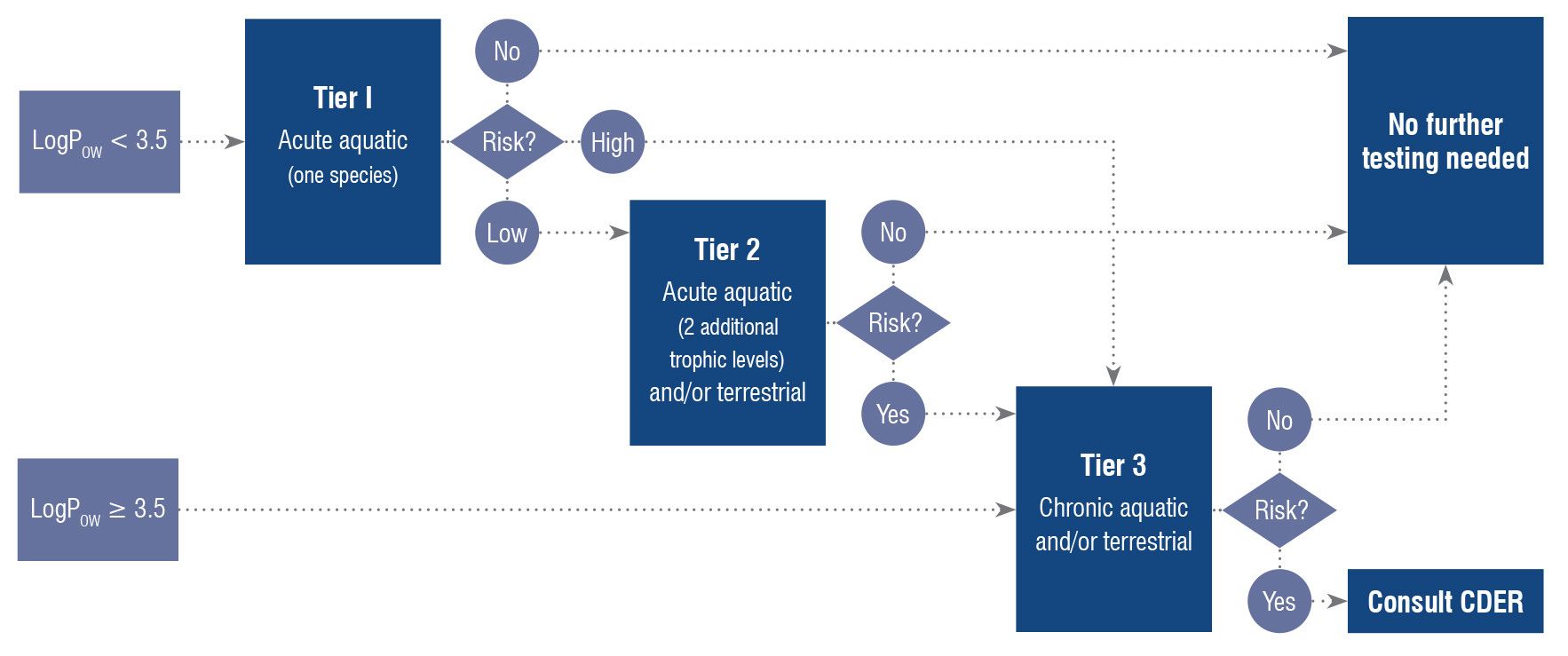 With extensive experience in study design across multiple industrial sectors, our team has a thorough understanding of these unique regulatory requirements, from study design to the review and interpretation of data. We can assist clients in the pharmaceutical arena with the design of programs and studies tailored to the properties of their medicinal product.
Environmental Risk Assessment Frequently Asked Questions (FAQs)
What studies are included in an Environmental Risk Assessment for a pharmaceutical?

An Environmental Risk Assessment (or (ERA) can consist of physicochemical, environmental fate and ecotoxicity studies. The final program design will be dependant on the properties of the medicinal product, usage and existing data.

What is an Environmental Impact Assessment?

An Environmental Impact Assessment (EIA) is a the veterinary medicinal product equivalent to an ERA. Similar studies will be required, but the final program design will also be dependant on the intended market. There are differences in the registration requirements between Europe and the United States, for example.