Nonclinical GLP Toxicology Studies
Successful toxicology studies demand the contributions of skilled study directors, toxicologists, pathologists, veterinarians, surgeons, regulatory specialists and support personnel. With a strong mechanistic understanding of toxicology, our team can efficiently determine potential risk factors early in the drug development or agrochemical registration process. Many of our scientists have served on or are currently participating in regulatory and industry body working groups, shaping the future of our studies. Because we are on the front lines, we ensure that our products, services, and processes keep pace with the rapid evolution of science, technology and the ever-changing needs of your product development.
New SEND Guidance Notice:
As of July 15, 2020, the Food and Drug Administration (FDA) Center for Biologics Evaluation and Research (CBER) has released a Federal Register Notice announcing the requirement of support of CDISC Standard for the Exchange of Nonclinical Data (SEND). Learn More
---
Investigational New Drug Development Programs eGuide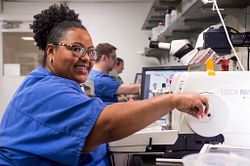 Need a custom solution? Our team is ready to develop a nonclinical development program just for you. Explore our regulatory toxicology services.
---
Do you have the toxicology services necessary to move my project forward? Simply, Yes.
Your drug development needs are unique and customized preclinical programs are the new normal. Our experts have more than just general toxicology knowledge, explore all the specialty toxicology services available to you.