Supporting Pharmaceuticals, Chemicals and Agrochemicals
With a team of dedicated inhalation toxicologists, aerosol technologists, and specially equipped laboratories, Charles River offers inhalation toxicity testing and related services to efficiently demonstrate the efficacy of these substances and to support worldwide registration of your pharmaceuticals, chemicals and agrochemicals.
---
Association of Inhalation Toxicologists (AIT) – 2019 Annual Meeting Resources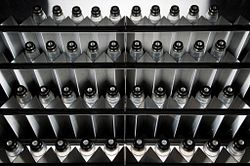 Did you miss us at the recent Association for Inhalation Toxicologists in Brighton, UK? Don't worry, you can download copies of our presented posters anytime.
---
Studies range from acute to sub-chronic and chronic through to carcinogenicity. We specialize in unique inhalation toxicology endpoints (e.g., neonatal, reproductive, neurotoxicologic, safety pharmacology) and are experienced in the conduct of radiolabeled aerosol disposition studies. We offer a variety of physiologic testing that includes respiratory and cardiology evaluations, bronchoalveolar lavage, and pharmacokinetic sampling, as well as efficacy studies for pharmaceutical agents.
Capabilities and Technology