Supporting Pharmaceuticals, Chemicals and Agrochemicals
With a team of dedicated inhalation toxicologists, aerosol technologists, and specially equipped laboratories, Charles River offers inhalation toxicity testing and related services to efficiently demonstrate the efficacy of these substances and to support worldwide registration of your pharmaceuticals, chemicals and agrochemicals.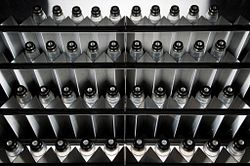 Association of Inhalation Toxicologists (AIT) – 2019 Annual Meeting Resources
Did you miss us at the recent Association for Inhalation Toxicologists in Brighton, UK? Don't worry, you can download copies of our presented posters anytime.
Download the Posters
Studies range from acute to sub-chronic and chronic through to carcinogenicity. We specialize in unique inhalation toxicology endpoints (e.g., neonatal, reproductive, neurotoxicologic, safety pharmacology) and are experienced in the conduct of radiolabeled aerosol disposition studies. We offer a variety of physiologic testing that includes respiratory and cardiology evaluations, bronchoalveolar lavage, and pharmacokinetic sampling, as well as efficacy studies for pharmaceutical agents.
Capabilities and Technology
SUPPORTING PHARMACEUTICALS, CHEMICALS, AND AGROCHEMICALS

With over 35 years of experience testing standard respiratory therapies such as bronchodilators, steroids, anti-asthmatics, vaccines, and surfactants, we have also performed inhalation toxicity testing for a range of less common drugs such as hormones, oligonucleotides, antivirals, and anti-hypertensives, as well as dual and triple combination therapies.

Similarly, our non-pharma group has tested the inhalation effects of chemical and agrochemical products, including solvents, chemical intermediates, fluorinated hydrocarbons, and pesticides, for more than three decades. Recently, we have been involved with the toxicologic evaluation of aerosols generated from fibres, e-liquid and e-vapor products.

Our chemical and agrochemical advisory services help you apply the most advantageous paradigm for your regulatory submissions. We have in-depth understanding and experience in REACH and agrochemical registration studies.

OECD TG 403 – Acute LC50 inhalation
OECD TG 412 – Sub-acute inhalation
OECD TG 413 – Sub-chronic inhalation
OECD TG 433 - Acute Inhalation Toxicity: Fixed Concentration Procedure
OECD TG 436 – Acute toxic class inhalation
OECD 443 - Extended one-generation reproductive toxicity study
EUR 20268 EN – Quantifying inhalable fraction

EQUIPMENT AND TECHNOLOGY

Exposure/administration suites
Inhalation delivery in rodents and nonrodents
Directed flow (flow-past) systems:

Nose-only or oronasal exposure (modular, flow-through, or flow-past inhalation exposure systems)
Prevents re-breathing
Restraint designed to minimize thermal stress
Maintains homogeneous breathable atmosphere at all levels of the inhalation tower

State-of-the-art technologies to generate powder, liquid, or vapor atmospheres
Early stage inhalation toxicology evaluation with intratracheal aerosol delivery
Oropharyngeal aspiration
Intranasal administration using a repeat dosing pipette or nasal pump spray device
For respiratory measurements, we provide Fleisch pneumotach and respiratory inductive plethysmography and head-out plethysmography

EXPOSURE ATMOSPHERE CHARACTERIZATION

Atmosphere characterization may include aerodynamic particle size distribution, gravimetric assessment, spatial and temporal homogeneity evaluation, and chemical analysis such as UPLC or LC-MS. Exposure atmospheres are routinely sampled using a variety of techniques, such as filters, adsorbent tubes and impingers, while real-time aerosol monitors may provide a qualitative assessment of an aerosol atmosphere. When necessary, our analytical chemists develop and validate methods specific to the compound and collection substrate under investigation in your inhalation toxicology study. Alternatively, we use online gas chromatography or infrared analysis to determine the concentration of gas or vapor atmospheres within an inhalation chamber.
Our experience includes delivery of aerosols, vapors and gases using various nebulizers, atomizers, dry powder generators, gas/vapor generators, or pressurized metered dose inhalers (MDIs). In support of inhalation toxicology studies, we also provide micronization/jet milling (including particle size distribution (PSD) analysis) and media milling.
Pharmaceutical Formulation Development
Don't let your formulation delay your GLP toxicology studies. It's essential to any preclinical program, but the one used in efficacy studies may not be suitable for a safety program.
Learn More
Frequently Asked Questions (FAQs) for Inhalation Toxicology
What are inhalation toxicology studies?

Inhalation toxicology studies are performed either in vitro or in vivo to assess the potential toxicity of materials that will be/or are likely to be inhaled. As part of the experimentation, relevant cell cultures and/or animal test systems are exposed to aerosolized/vaporized test material either on single or multiple occasions. Prior to the commencement of the exposure period, atmosphere settings are optimized to meet the necessary acceptance criteria, proving that target doses can be met and that atmospheres are respirable. Sufficient endpoints are designed into the experiment to allow for conclusions to be reached as to the effect(s) of administering the material via the inhalation route.

How do inhalation studies support preclinical drug development?

Initially, results from preclinical inhalation toxicity testing will determine whether a pharmaceutical is safe enough to be administered to humans as part of controlled clinical trials. Additional testing may subsequently form part of the new drug application submitted to the regulatory authorities and will allow the agency to determine (along with results from the human clinical trials) whether the new pharmaceutical is ultimately safe enough to be marketed and sold.

What drugs require inhalation toxicology studies?

Novel compounds or excipients intended to be administered via the inhalation route require that inhalation toxicology studies be performed on them. The design and scope of these studies is governed by regulatory bodies such as FDA or EMEA. In order to protect worker health, EPA requires that materials that could potentially be inhaled in the workplace must also be tested so that they may be placed into the appropriate occupational exposure banding.