Ocular Toxicology Studies
Charles River performs safety and efficacy assessments for all ocular indications. Ocular effects of compounds administered by other routes, such as oral, can also be characterized. These ocular toxicology studies can be conducted under GLP or non-GLP conditions, either as stand-alone studies or as part of general and specialty toxicology programs. Non-GLP pilot or proof-of-concept studies, as well as in vitro ocular irritancy evaluations are also available for your early research. Our on-site ACVO board-certified veterinary ophthalmologists have experience with both rodents and nonrodents using small molecules, biologics, cell therapy, gene therapy, implants, and transplants.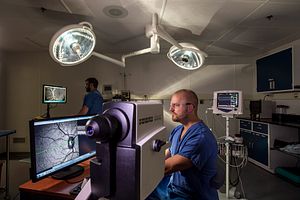 Need support for your ocular drug products?
With the most experieced ocular pathology team in the contract research industry, our knowledge and expertise to perform specialized pathological assessmennts of ocular tissues will support any ocular toxicology study needs that clients have. This support includes routine paraffin or cryo-sectioning, immunohistochemistry, and electron microscopy.
---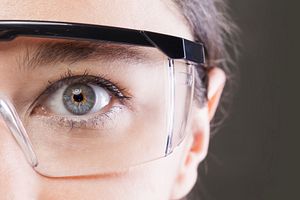 Case Study: Evaluating Multiple Vectors in a Single Eye
A custom surgical technique to create four independent subretinal injection sites within a single eye for a gene vector.
Download Case Study
---
Examinations and Services
STUDY DOSING ROUTES

Intravitreal
Intracameral
Subconjunctival/tenons
Subretinal
Topical
Systemic

STUDY EVALUATIONS

Specular microscopy for noninvasive, in vivo evaluation of the corneal endothelium
Tonometry (IOP) evaluations
Enhanced microscopic evaluation
Ocular histopathology
Quantitative autoradiography (2D and 3D)
Ocular and systemic tissue distribution (detailed ocular tissue dissections; radioisotope-labeled, LC-MS/MS, ELISA, PET, SPECT)
Corneal fluorescein staining
Schirmer tear/phenol red thread testing
Esthesiometry
In vitro corneal opacity and permeability

PRECILNICAL EXAMINATIONS & SERVICES

Electroretinography (ISCEV, custom protocols, and VEP)
Spectral domain optical coherence tomography (SD-OCT; anterior and posterior) and retinal layer segmentation
Pachymetry (corneal thickness)
Digital fundus photography/video
Confocal scanning laser ophthalmoscopy (CSLO; multiple image modes – infrared and tomography for 3D images)
Fundus autofluorescence
Fluorescein angiography (FA)
Indocyanine green angiography (ICG)
Vitrectomy
Aqueous/vitreous humor collections and biomarker quantification
Slit-lamp biomicroscopy
Indirect and direct ophthalmoscopy
Gonioscopy
Streak retinoscopy
Draize test
Ocular reflexes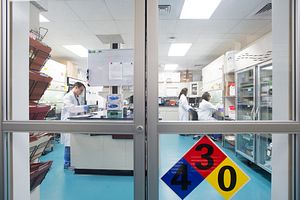 Pharmaceutical Formulation Development
Don't let your formulation delay your GLP toxicology studies. It's essential to any preclinical program, but the one used in efficacy studies may not be suitable for a safety program. Learn about our formulation development capabilities
---
Frequently Asked Questions (FAQs) for Ocular Toxicology Research
What is ocular toxicity?
What is a nonclinical ocular model?

A nonclinical ocular model may be either an in vitro system or a purpose-bred animal that provides detailed information to research scientists about the efficacy and/or safety of a substance, drug, or device developed to address a specific human ocular condition. Biotechnology companies can partner with preclinical cro that conducts ocular toxicology studies to evaluate these models and the therapies they are developing.

What is cell therapy?

Cell therapy involves the delivery of in vitro cultured cells to a chosen tissue in the body to supplement or replace a patient's own irregular cell population, commonly in attempt to eliminate or modify a disease condition.