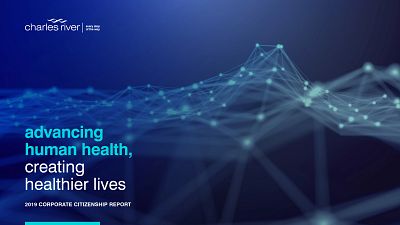 As we publish our initial Corporate Citizenship Report, the world continues to face unprecedented challenges amid the global COVID-19 pandemic. Yet, as the only contract research organization (CRO) with an integrated, early-stage portfolio that spans the drug research process from target discovery through nonclinical development, Charles River remains committed to providing the scientific expertise you require when and where you need it. We partner with our clients to deliver innovative, safe, and effective medicines and therapies to patients, as quickly and efficiently as possible. We are also dedicated to our corporate citizenship initiatives, working together in our efforts to do right for our planet, our people, and our communities.
We are very proud of the work we do and the role we play in improving people's lives. The scientific breadth and depth of our portfolio is Charles River's principal distinguishing feature and competitive advantage, that enables us to begin working with you very early in the research process and support you all the way through drug approval and beyond. We also act with speed and responsiveness to deliver exceptional support, and we believe these two factors are the primary reason that clients chose to work with Charles River on 85% of the drugs approved by the U.S. Food and Drug Administration (FDA) in 2019.
We are pleased to report our corporate citizenship progress and where we are headed with our environmental, social, and governance (ESG) strategy and goals. At the same time, we acknowledge that significant global and domestic events of 2020 have accelerated the necessity to be agile and embrace change—to further innovate, digitize, collaborate, and lead by example—while remaining steadfast in our commitment to corporate citizenship.