There are about 7,000 rare diseases spanning various therapeutic areas, and many of the diseases lack therapies or even knowledge of disease drivers. Recent trends in a supportive regulatory environment and pharmaco-economic incentives are driving increased investments in rare disease drug discovery. Charles River has developed tools for quicker and more translational preclinical studies that will help push more clinical candidates targeting rare diseases into the clinic. This includes validating relevant models and investigating the mechanisms of action using appropriate biomarker endpoints.
The Disruptors: Conversations in Science
To pay homage to the most disruptive and visionary scientists leading the effort on the frontlines, Charles River is sharing stories about the state and direction of scientific research, discovery, and therapeutic development.
Meet the Disruptors
Most importantly, given the dearth of in vitro and in vivo models that can be used to test orphan drug compounds, we are committed to making these tools available to the drug development community. We offer end-to-end drug discovery services from target identification to IND enabling safety/toxicology studies via integrated multi-disciplinary teams across multiple therapeutic areas. Our teams use state-of-the-art capabilities and resources to customize rare and orphan disease drug discovery across several therapeutic areas.
 
We are proud to collaborate with Open Treatments Foundation to decentralize gene therapy for rare genetic diseases by empowering patient foundations.
A single orphan disease may affect just a handful of individuals, the global impact is significant – in the US alone between 25 and 35 million people are estimated to be afflicted with a rare disease, and 50-66% of known rare diseases affect children.
Collaborative Partnerships
Effective partnership is the key to finding solutions to what arguably are some of the most difficult to diagnose conditions. Charles River has partnered with the nonprofit foundation, CHDI, to develop novel assays and identify new disease regulators for Huntington's disease. Another area of interest is muscular dystrophies where our scientists have used in vitro cell models to identify robust screening biomarkers as well as validated translational methods like preclinical imaging and motor skill assessment to define new biomarkers to assess in vivo therapeutic responses. We have recently partnered with Sanford Research to validate mouse models for Batten disease, a fatal lysosomal storage disorder that affects young children. Although these models have been widely used by the science community, recent collaborative studies have revealed novel features in both models such as differences in key brain tissue metabolites and fine motor movement properties in Cln2 and Cln6 mouse models. The use of advanced technologies by Charles River have increased available endpoints used in these models to assess pharmacological responses to new therapies for Batten disease. Partnerships like these are vital to advance complex therapies for rare and orphan diseases and build translational bridges between pre-clinical and clinical studies.
---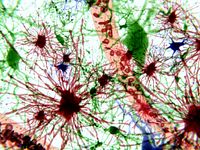 Discover new approaches and technologies to fuel your next neuroscience discovery. Check out our scientific posters from Neuroscience 2019.
---
End-to-end Drug Discovery
We offer a robust portfolio of in vitro assay capabilities including gene editing (CRISPR/Cas9), phenotypic screening, RNAi screening, and viral vector mediated gene delivery. The assay portfolio is complemented by disease-relevant cell systems, including iPS cells, patient derived tissues, hES cells, and primary cell lines derived from human tissues or rodent disease models. These capabilities allow us to build models and design assays for a given disease. A similar approach is employed for in vivo models where we can create a new model or validate an existing model for a given rare disease using disease relevant biomarkers and preclinical endpoints.
Tools for Rare Disease Drug Discovery
Early Discovery Services
In Vitro Assay Services
In Vivo Pharmacology Studies
Related Therapeutic Areas
Charles River provides safety assessment solutions for your rare disease programs and projects. Our safety assessment team provides a full range of in vivo and in vitro testing services that comply with worldwide regulatory guidelines for non-clinical development. We can partner with you for the development and execution of customized toxicology studies and pathology evaluations to move your program forward and bring your novel therapy to life.
Safety Assessment Services
Specialty Areas
We offer full-service support across the entire drug discovery and development continuum, including many products and services not specific to therapeutic area or indication.
Serving the needs of both small and large molecule developers, we offer a broad range of standard and specialized laboratory services to complement and enhance drug development programs, from discovery through safety and clinical trials. From complete IND-enabling programs to stand-alone assessments, our Safety Assessment team provides a full range of in vivo and in vitro testing services that comply with worldwide regulatory restrictions for the preclinical development of pharmaceuticals.
We provide a comprehensive range of testing programs and equipment to support pharmaceutical development. Our biologics testing solutions and portfolio of microbial quality control systems and services help clients ensure the safety, quality and compliance of their products. We support large molecule manufacturing from early preclinical formulation development through clinical and commercial manufacturing and release.
Exceptional support of the entire drug discovery and development process is a Charles River hallmark. As a customer-focused organization committed to advancing science and helping clients reach their goals, we continually strive to develop solutions that extend our support of their efforts. Because our industry-seasoned professionals have followed the same journey as our clients, we can provide insight into the bigger picture, advice on best practices, skilled staff to extend resources and targeted training to meet the unique challenges they face along the way.