Charles River offers a wide range of neuroscience research products and services supported by our scientific depth, unique technical capabilities and experience in all the major neurodegenerative diseases and neurological indications, such as schizophrenia, Alzheimer's disease, Parkinson's disease, chronic pain, epilepsy, multiple sclerosis, stroke, and ischemia. From in vitro assays and animal models of disease to discovery research and preclinical testing, we have developed tools to assist clients in identifying the most promising candidate and shortening the development cycle of potential therapies with neurological implications.
Neuroscience drug discovery presents significant challenges and complexities. Effective programs require a multi-disciplinary skillset that includes an understanding of disease biology, combined with innovative chemistry and neuropharmacology. Our portfolio of unique capabilities and state-of-the-art instrumentation can support and advance neuroscience drug discovery research at any phase from target discovery and validation to preparing an IND.
By combining sophisticated genetic manipulation techniques with complex cell-based assays, including those developed in stem cells, primary human or rodent cells, and patient-derived cells, our scientists can identify and validate novel targets for neurological diseases, or provide disease-relevant in vitro models for early efficacy, target engagement, and toxicology assessment.
Effective small molecule drug discovery requires a strong partnership between the biologists and chemists working on the program. A thorough understanding of the biology of the target is critical to generating and optimizing compounds with the most favorable characteristics for efficacy and safety, while mastery of chemistry is required to insure novel, selective and high-quality development candidates.
---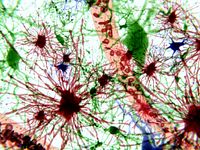 Discover new approaches and technologies to fuel your next neuroscience discovery. Check out our scientific posters from Neuroscience 2019.
---
Our scientists have the depth and specialty expertise to deliver insight and data to progress your discovery program in all major neurodegenerative diseases and neurological indications, including depression, schizophrenia, Alzheimer's disease, Parkinson's disease, chronic pain, epilepsy, multiple sclerosis, stroke and ischemia. To develop novel therapies for rare or orphan diseases, such as muscular dystrophies, Huntington's disease, and ALS, our scientists continuously develop innovative new models and assays to advance research in these disease areas.
With our extensive portfolio, we can collaborate with you to develop novel study designs to meet your specific research needs. Our comprehensive suite of imaging modalities, behavioral and biomarker endpoints, and translational tools enable more effective decision-making to help move your research forward.
Neuroscience Resources
Scientific Posters
Technical Sheets
Videos
Finding the right animal model for neuroscience research can be challenging. Charles River can provide diseased animal models for neuroscience research and longterm aging studies. The PGP Mouse (transgenic), and the SHRSP Rat are a few of the models accessible to you.
If your research timelines dictate that you have study-ready animals, you have the ability to obtain animals (rats, mice, and guinea pigs) that have been surgically altered to exhibit neurological diseases. Additionally, through our preconditioning services, the models can be further modified for studies that require telemetry, controlled test article administration, and sampling.
Basic Research Products & Services
We understand how important it is to know if your test material adversely affects the chemistry, structure, or function of the nervous system. The safety assessment neuroscience program at Charles River encompasses a broad range of products, including pharmaceuticals, biopharmaceuticals, chemicals, and biomaterials, in both rodent and nonrodent species.
Routinely performing neurotoxicity screening, neurobehavioral screening, neuropathology, ocular studies, abuse liability, otic studies, and more, Charles River's breadth of experience gained from being in the industry for over two decades makes us an expert partner for your central nervous system projects.
Safety Assessment Services
We offer full-service support across the entire drug discovery and development continuum, including many products and services not specific to therapeutic area or indication.
Serving the needs of both small and large molecule developers, we offer a broad range of standard and specialized laboratory services to complement and enhance drug development programs, from discovery through safety and clinical trials. From complete IND-enabling programs to stand-alone assessments, our Safety Assessment team provides a full range of in vivo and in vitro testing services that comply with worldwide regulatory restrictions for the preclinical development of pharmaceuticals.
We provide a comprehensive range of testing programs and equipment to support pharmaceutical development. Our biologics testing solutions and portfolio of microbial quality control systems and services help clients ensure the safety, quality and compliance of their products. We support large molecule manufacturing from early preclinical formulation development through clinical and commercial manufacturing and release.
Exceptional support of the entire drug discovery and development process is a Charles River hallmark. As a customer-focused organization committed to advancing science and helping clients reach their goals, we continually strive to develop solutions that extend our support of their efforts. Because our industry-seasoned professionals have followed the same journey as our clients, we can provide insight into the bigger picture, advice on best practices, skilled staff to extend resources and targeted training to meet the unique challenges they face along the way.