Generating iPS Cells for Drug Discovery
The discovery of reprogramming patient derived somatic cells into induced pluripotent stem cells (iPSC) has offered a promising alternative as they can be used to generate large numbers of cells and varied tissue types. Our extensive experience in stem cell culturing and differentiation delivers a comprehensive stem cell portfolio resulting in reproducible cell populations (striatal and cortical neurons) and robust assay quality for HTS and cell based assays.
Generating iPS Cells for Disease Relevant Cell-Based Assays
With a focus on CNS, we work with different suppliers to access patient-derived cells from neurological diseases such as Huntington's and amyotrophic lateral sclerosis to culture and differentiate them into neural cells for compound screening, target discovery, and validation. Using pluripotent stem cells, we offer high-throughput compatible assays, with low variability and reproducible pharmacology observed in high-content and molecular biology approaches, including gene expression profiling for thorough quality control during culture and differentiation.
Stem cell-derived neurons are used in medium-throughput assays (e.g., hit compound deconvolution). We have developed arrays of high-content algorithms to allow measurement of cell morphology and toxicity in fixed-cell and real-time format and have electrophysiology capabilities for measurement of neuronal activity. This expertise in CNS therapeutic areas presents the ability to adopt specific stem cell differentiation protocols for production of other disease-relevant cells types.
iPS Cells for Neurological Diseases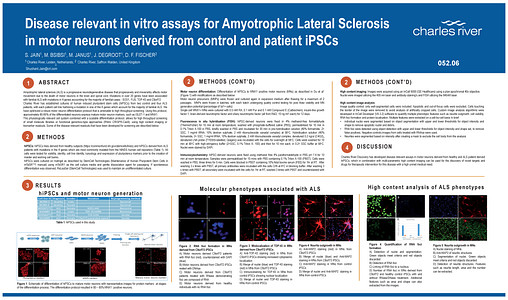 Download this poster to see how disease relevant in vitro assays improve translation in vivo and ultimately lead to success in the clinic. Start your assays with ALS patient derived iPS cells.
Download Here
Generating iPS Cells for High-Throughput Screening (HTS)
Although iPS cells derived neurons have promising applications in drug discovery platforms, their use for high throughput screening (HTS) has been limited by the traditional differentiation methods, which are difficult to reproduce at scale. Here we have characterized with immunocytochemistry (ICC) and branched DNA (bDNA) assays human glutamatergic neurons (eNEURON/glut) differentiated from iPSCs cells using forward reprogramming technology developed by Elpis BioMed.
Robust and Scalable iPS cells for HTS

Download this poster to learn how the use of a forward reprogramming technology generates robust and scalable iPS cells for the development of CNS disease HTS.
Download Here
IPS Cells Frequently Asked Questions (FAQs)