MALDI Biotyper 与 Accugenix® 库相结合
MALDI Biotyper 以 MALDI-TOF 质谱为基础,已被业界广泛接受为下一代微生物鉴定技术。传统的生物化学鉴定需要从培养板中选择微生物,然后进行耗时良久的培养和辅助前体检测,而 Axcess® 系统则可以从培养板即时鉴定分离菌落。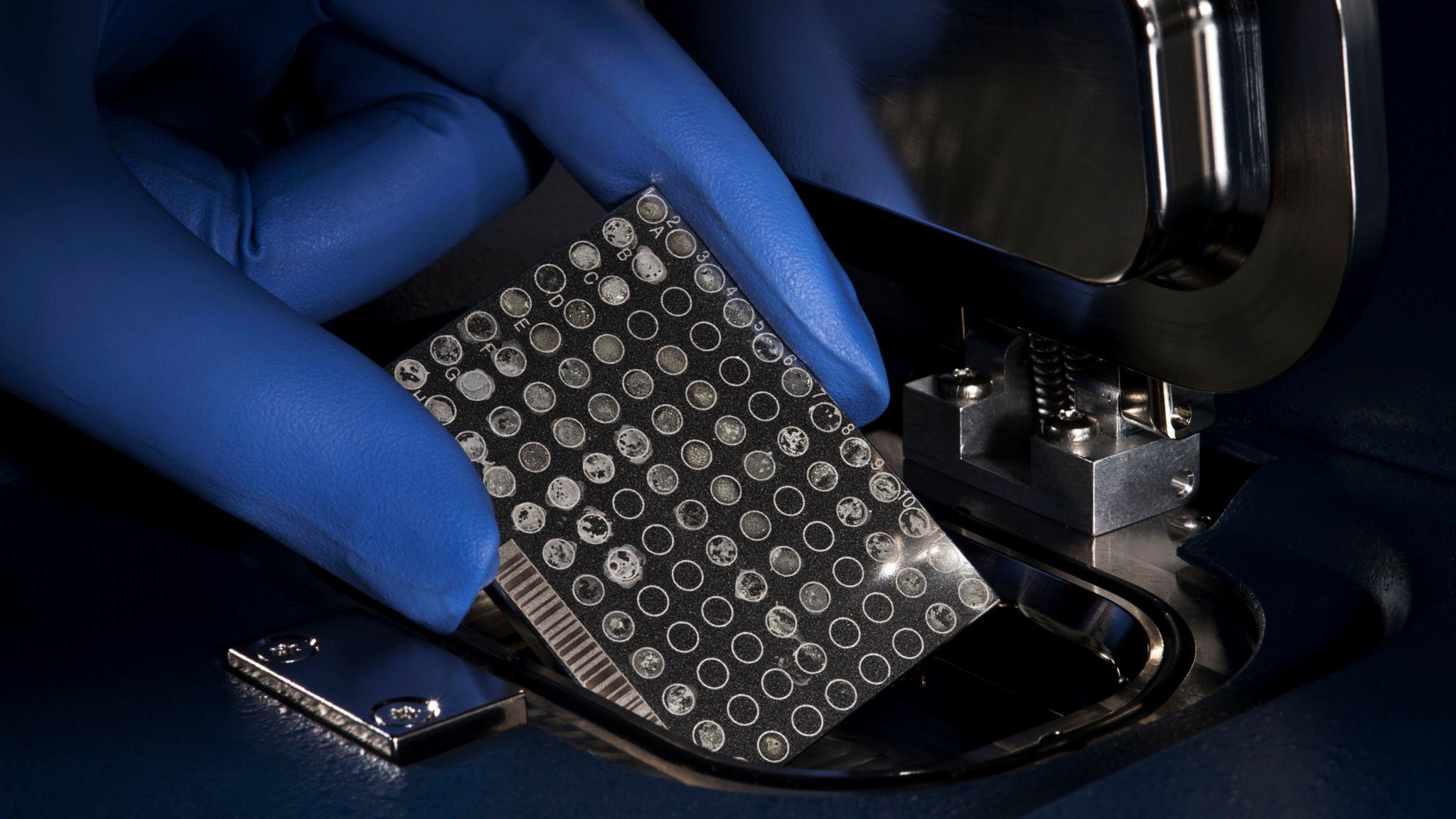 用于 MALDI 制备的 Axcess® 系统靶板

Axcess® 系统功能
Bruker MALDI Biotyper:自动自清洁、静音台式系统,具有增强峰值分辨率、灵敏度和性能。
Annual Axcess® 分类:分类以从 Accugenix® 细菌数据库获得的鉴定数量为基础。
Accugenix® MALDI-TOF 参考库:专注于无菌和非灭菌制造环境微生物鉴定的最大专业数据库。
无匹配样品保证:免费提供 AccuPRO-ID

®

服务,对在您所在地未能生成有效物种鉴定的样本进行检测。
安全:我们的 IT 方案采用专门的多冗余设计,保护您的数据并确保全天候连续服务。
通过我们的客户门户网站跟踪并了解趋势:通过 Accugenix® 客户门户网站,您可以轻松了解过去和现在的环境控制数据。可过滤报告能帮助您在调查偏移或进行根源判定时记录微生物菌群的重大变化。
系统通量:工作流程分析表明,4 个靶板(每个包含 48 个点)可以在 60 分钟内(15 分钟/靶板)生成结果,竞争产品 MALDI-TOF 系统则最长需要 180 分钟才能完成相同工作负荷,而表型系统可能需要长达 18 小时的培养时间才能进行生化反应。
Specifications

System
Order Code

Axcess® sirius one MALDI Biotyper package
Starter kit for MALDI-TOF MS
Barcode scanner for MALDI Biotyper
Reference physiocare pack (tips and pipettes)
Software package MALDI Biotyper Compass HT
Compliance Assistance Module

AXC750
Axcess® sirius MALDI Biotyper Package
The sirius package includes all the features and accessories as the Axcess® sirius one MALDI Biotyper package, with the added benefit of both positive and negative ion mode for microbial identification and future applications.
AXC850
Axcess® MALDI Biotyper-CM Reagents
Bacterial test standard (BTS)
Matrix HCCA
MSP 96 steel target plate
MSP adapter for MALDI Biotarget
MALDI Biotarget 96 disposable target plate 20/pk
Conidia IDFP fungi agar plates 20/pk

AXC115
AXC155
AXC9605
AXC4800AD
AXC9600D
AXC320

Axcess® Startup Package
The Axcess® Startup Package is available with the initial Axcess® instrument purchase. It includes the Bruker IQ/OQ/PQ, Charles River SQ/MV, and Axcess® authorization and licensing for one year. Required with purchase.
AXC8000
Axcess® Annual Instrument Service Agreement Options
Complete CARE
Complete CARE priority plus
Annual service contract gold
Annual OQ/PV with service agreement
Annual OQ/PV without service agreement
Warranty plus
On-site Training (per day)
Software qualification/methods validation
AXC900
AXC1100
AXC1000
AXC400B
AXC 404B
AXC700
TS200
AXC502

Partnership Agreement with Bruker to Sell the Axcess® System

On April 15, 2013, Charles River was pleased to announce a partnership with Bruker to provide rapid, accurate microbial identifications to the industrial microbiology market, including pharmaceutical, biopharmaceutical, personal care and other manufacturing industries. Through this agreement, the Charles River Endotoxin and Microbial Detection division will sell the Axcess® System, an offering that combines the Bruker MALDI Biotyper system with a custom data analysis software solution that allows instantaneous access to the Accugenix® microbial database for identifications.

Frequently Asked Questions About MALDI-TOF for Microbial Identification