Bystander, Worker & Operator Exposure Studies for Agrochemicals/Biocides
The first step in addressing risk is determining the individual's level of exposure to the chemical in question. Several factors can impact risk, including a chemical's formulation type, crop type, manufacturing facility, method and rate of application, and an individual's involvement.
Such investigations are critical, not only to obtain regulatory approval and/or assure compliance, but to develop appropriate safety procedures for those handling chemicals. For example, operator exposure studies evaluate both dermal and inhalation exposure of workers in typical practical field situations (e.g., agricultural workers using knapsack sprayers in orchards or shipyard workers using anti-fouling paints on boats).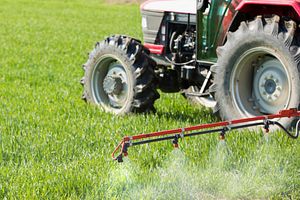 Such studies must comply with regulatory guidelines like the Organisation for Economic Co-operation and Development (OECD) Guidance Document for the Conduct of Studies of Occupational Exposure to Pesticides During Agricultural Application.
We conduct studies throughout Europe, using local country offices to identify and evaluate appropriate operators (e.g., qualified agricultural workers) before a study begins. This allows selection of suitable types of application equipment with representative filling methods and designs, and ensures that study data is representative of commercial practice. We conduct both the field and analytical phases of these studies, including standard clothing and hand wash solutions and the biological monitoring of plasma and urine.
Human Assessment Studies
Exposure Study Designs

Operator exposure
Dislodgeable foliar residue (DFR)
Spray pesticide drift
Commodity storage

Common Study Components

Crop and facility selection
Site and season determination
Application equipment calibration
Choice of operator protective clothing
Sampling procedures
Meteorological data
Analytical procedures for test item
Designing Human Exposure Studies
Having worked with active substance submissions and successfully completed numerous plant protection product authorizations, our regulatory experts can design the right strategy to achieve full registration and authorization for our clients' products. We have a deep understanding of the major worldwide regulations and routinely prepare dRRs and active substance renewals.
Protocols are customized for each study, but all studies comply with appropriate regulatory authorities and follow volunteer consent procedures, health questionnaires as well as ethics committee review and approval. At times, studies may be reviewed by an independent ethics committee, especially in cases which involve biological monitoring.
We determine operator exposure by chemical analysis of whole-body protective suits, inner and outer gloves, hand wash, and urine and blood samples that are collected at appropriate intervals. Inhalation exposure is measured with personal air samplers that collect fractions in an operator's breathing zones. Samples are collected, frozen and stored on-site before transport. Samples may be shipped to our own facility for handling by our Residue Analysis group, or directly to clients who wish to perform their own assessment. Our experts can either apply existing residue methods or develop new techniques using the latest and most precise methods of detection.
Frequently Asked Questions (FAQs) for/about Human Exposure Assessments
What are Human Exposure Studies?

Human exposure studies evaluate the dermal and inhalation exposure of operators, bystanders and workers to agrochemicals and biocides in typical practical field situations.

Who's at risk of pesticide exposure?

Any person who works with a pesticide, either in its manufacture, transportation or final application could potentially be exposed to the chemical actives. Bystanders can also be exposed to the actives if they are in the vicinity of the treatment area, due to pesticide drift from the application area, or through contact with residues on the crop or soil post application.