Genomics Solutions
Applied thoughtfully, genomics services can support all phases of development, from discovery and preclinical studies to translational sciences and clinical sample analyses. When you partner with Charles River, you can expect fast turnaround and actionable results. Our team of experienced scientists use leading edge technologies to deliver high-throughput genomics solutions, from sample preparation to high quality data generation, analysis and interpretation.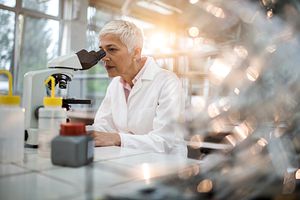 Cell and Gene Therapy Services and Products
Our comprehensive portfolio of preclinical CRO services provides the cell and gene therapy services and products, scientific, and regulatory experts to fully support your integrated program from start to finish.
How Can We Help
Nucleic Acids Extraction and QC
High quality nucleic acids extraction is a crucial prerequisite step for the application of further genomics solutions. Our teams routinely extract RNA, mRNA, miRNA and DNA from numerous sources including:
60+ animal and human tissues
Blood and biological fluids
FFPE samples
Limited quantities of material
Gene Expression Services
Our comprehensive genomics services offering includes fully integrated gene expression services like NGS sequencing, DNA microarrays and RT-PCR or multiplex technologies, as well as highly complex data analysis and interpretation in partnership with Fios genomics.
RNASeq (Illumina®)
Affymetrix cartridges and plates, including whole transcriptome arrays and Clariom™ S and D
miRNA profiling

NanoString technology
Gene expression analysis

RT-qPCR
Branched DNA technology
ViewRNA technology
Genotyping Services and Pharmacogenomics
From SNP analysis to genome-wide association studies, Charles River performs scalable genotyping, mutational, and pharmacogenomics analyses.
Taqman™ assays
Affymetrix arrays and plates: SNP 6.0, Axiom™ arrays
Drug Metabolizing and Transporters: Affymetrix DMET/DMET™ Plus arrays and Pharmacoscan™ solutions
Mutational analyses and tumor mutational burden: targeted sequencing, whole exome sequencing (Illumina)
Data Analysis and Interpretation
To maximize your investment in the generation of accurate, robust data and QC, we've partnered with Fios Genomics to offer a wide range of bioinformatics analysis services in support of your drug discovery, preclinical, and clinical research. Applications range from biomarker discovery & characterization, drug repositioning, pathway analysis, predictive toxicology and toxicogenomics, as well as pharmacogenomics and patient stratification.
Versatile data transfer to sponsor
Robust bioinformatics and biostatistics data analysis pipelines
Analysis of high-dimensional, multi-variant datasets from a variety of high-throughput genomic technology platforms
Analysis of Molecular & Cellular Responses
See how our scientists characterized the kinetic immune response to checkpoint inhibitors (anti-PD-1 + anti-CTLA-4) in MC38 tumors using flow cytometry and gene expression analysis.
Download the poster
Genomics services continue to evolve and advance drug development. Partnering with an organization like Charles River ensures that you maintain access to the most innovative genomics solutions and the expertise to effectively turn the analysis of your data into action.
Frequently Asked Questions (FAQs) for Genomics Services
What is the difference between genomics and genetics?

According to the World Health Organization, the main difference between genomics and genetics is that genetics scrutinizes the functioning and composition of the single gene whereas genomics solutions address all genes and their inter relationships in order to identify their combined influence on the growth and development of the organism.

What is NGS sequencing?

Next generation sequencing (NGS) is a high-throughput method used to determine a portion of the nucleotide sequence of an individual's genome. This technique is part of our genomics services offerings and utilizes DNA sequencing technologies that are capable of processing multiple DNA sequences in parallel.