Vivarium Design Services
By applying our scientific and engineering expertise to your project, we can interact with your internal vivarium operations and/or outside consultants to deliver an efficient, effective solution for your new or existing facility. Services we provide include:  
Development of mechanical/electrical systems concepts
Review and recommendation of process flows
Options to maximize space
Conceptual design package
Conducting programming session(s)
Review of existing program
Equipment lifecycle cost analysis
Cagewash throughput analysis
​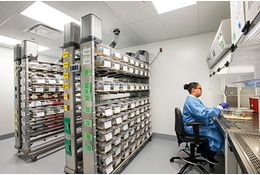 ​CRADL™ Vivarium Rental
Struggling with the thought of building and managing a new vivarium? By occupying space at one of Charles River's CRADL™ facilities, you can eliminate large infrastructure costs and focus on your research. It's an ideal solution for startups looking for a lean approach to their research, and for existing pharmaceutical and biotech organizations looking to expand.

Vivarium Construction Design Review
In designing your vivarium, you may require third-party architectural and engineering support, and it is important that your partner comprehends the scientific considerations of animal research facilities. Charles River has registered mechanical and electrical engineers who understand the balanced aspects of system reliability, redundancy, biosecurity, and opex/capital costs. We can help with:  
General consultation
Augmentation of current design with Charles River engineers
Peer review of existing design documents

Vivarium Owner Representative Services
Whether you are renovating or building new, vivarium construction entails complex tasks that should be entrusted only to the most experienced partners. Charles River has 50+ years of experience in overseeing and managing such projects. We offer a turnkey approach for resource-limited owners to realize a successful project. We're ready to support you with:  
Program and design coordination
Value engineering
Construction, coordination, and equipment procurement
Quality, budget, and change controls
Commissioning services