Preclinical Research Facilities
With a global network of testing facilities in Europe, Canada, and the United States, we are a preclinical contract research organization (CRO) with a local touch.
Our Biosafety Level 2 (BSL2) barrier facilities* in Horsham, PA, Mattawan, MI, and Portishead, UK, can deliver results under high regulatory standards and at a competitive price.
With continual improvement of our global research processes, exceptionally high standards for our scientific teams, and our state-of-the-art facilities, we're focused on expediting research programs, drug discovery/lead candidate selection, and preclinical drug development through our Global Process Adoption initiative.
*Available through The Source℠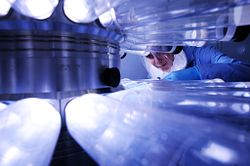 Safety Assessment Services and Facilities
Learn more about all of our safety assessment services and the sites at which they are offered.