Batten Disease Models
NCLs are currently associated with mutations in 14 genes, and some of the disease-causing genes that are being investigated are in the Cln gene family. At Charles River, we are actively working on phenotyping 2 Batten disease models – Cln2R207X and Cln6NCLF to identify new biomarker endpoints that can be translated to the clinic.
---
Neuroscience 2019 Scientific Posters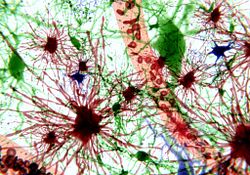 Discover new approaches and technologies to fuel your next neuroscience discovery. Check out our scientific posters from Neuroscience 2019.
Download the Posters
---
The methods used to identify translatable biomarkers include imaging, metabolite measurements using magnetic resonance spectroscopy (MRS), and fine motor kinematic analysis of movement and posture. These methods can help uncover clinically significant changes in animal models that may also be seen in human patients. For example, MRI is used to visualize brain compartments to study structural and functional changes in the disease state as well as in response to therapeutic approaches.
Figure 1: Brain compartments detected via MRI
Available Studies
Cln2R207X Model Validation

Mutations in the Cln2 gene cause late infantile NCL/Cln2 or Batten disease, and the most commonly detected nonsense mutation in Cln2 is the R207X mutation. Charles River is collaborating with Sanford Research to validate the Cln2R207X mouse model using multiple translational methods, including MRI and MRS to assess metabolite concentrations, and fine motor kinematics to assess motor skills. These methods support the identification of clinically relevant biomarkers in the targeted mouse model.

Initial studies show small, but significant differences in whole brain volumes primarily in female mice and significant difference in levels of brain metabolites, including glutamate, creatine, and phospho-creatine. Wild type and Cln2R207X mice were tested at two months and three months of age, and the most significant changes in proton magnetic resonance spectroscopy (1H-MRS) were seen in the older mice.

Figure 2: Magnetic resonance spectroscopy of prefrontal cortex of Cln2R207X mice compared to age matched wild type mice

Additionally, the Cln2R207X mice showed differences in gait changes compared to wild type as measured by quantitative fine motor kinematics that allows the detection of small changes in over 75 parameters associated with movement and posture. Overall gait changes were identified in both male and female mice at 3 months of age while only males showed gait changes at 2 months of age. Some of the key differences between Cln2R207X mice and wild type mice are:

Decreased diagonal gait mode (trotting) and increased double support
Lower hind body posture measured by lower tail base and hip height parameters as well as decrease in knee and ankle angles
Increased range of hip angle movement
Elevated forelimb swing trajectory profile


Figure 3: Gait scores of Cln2R207X mice and wild type mice (aged 2 months and 3 months separated by gender)

Cln6NCLF Model Validation

Mutations in the Cln6 gene results in late infantile onset Batten disease and an adult onset form called Type A Kufs. Mice expressing the Cln6NCLF mutant that is naturally occurring show similar pathological phenotype and behavioral changes as human Batten disease (Cln6 variant). Similar to the Cln2 studies, Charles River is collaborating with Sanford Research to validate the Cln6NCLF model using multiple translational methods, including MRI, PET imaging, and MRS to assess metabolic changes and using fine motor kinematics to assess motor skills. These methods also support longitudinal studies to assess specific biomarkers at specific time points.

Initial studies show progressive decrease in whole brain volumes and changes in white matter. Significant metabolic changes were detected as well, including changes in several brain metabolites (e.g., Tau, creatine, phospho-creatine) and increased glucose consumption at 12 months of age. Fine motor kinematic analysis showed a significant differences between Cln6NCLF and wild type mice in a gender dependent manner where males showed gait differences across all time points while females showed gait differences at later time points. Some of the key differences include:

Decreased trotting
Decreased swing speed (especially at later timepoints)
Elevated forelimb swing trajectory profile
Decreased posture

These validation studies use clinically relevant methodologies and endpoints. Using a multi-modal approach to phenotype animal models of disease are crucial to improve confidence in the data to accelerate drug discovery programs.

Figure 4: Magnetic resonance spectroscopy of prefrontal cortex of Cln6NCLF mice at different ages compared to wild type mice


Figure 5: FDG PET imaging of Cln6NCLF mice showing differences in glucose consumption compared to wild type mice
Our Next Training & Events